AWARD "90 YEARS OF RADIO CLUB ZAGREB"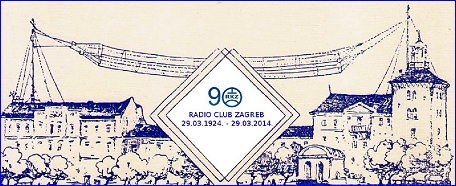 In order to celebrate 90 years of Radio club Zagreb (founded 29.03.1924.), one of the oldest radio clubs in Europe, it is possible to earn this special award in PDF format.
Rules:
1. All radio amateurs who make a certain number of contacts with Radio club Zagreb stations and club members can apply for the award. The contacts that qualify are the HF (including WARC bands), VHF/UHF, any mode less contacts via terrestrial transponders and/or links as echolinks, VoIP etc., according to the IARU band plan. Only the contacts made from 29.03.2014 till 31.12.2014 are valid for award application.
2. SWL radio amateurs can also apply for award
3. In total are needed 7 points in order to qualify for award.
4. Active club stations call signs with point values:
9A90Z 4 points
9A1ADE 2 points
9A1EPC 2 points
The club members 1 point
The list of club members (valid 1 point):
9A0W
9A1II 9A1IW 9A1R
9A2CD 9A2DO 9A2EY 9A2GA 9A2HQ 9A2IJ 9A2JH 9A2JS 9A2JY 9A2JZ
9A2MR 9A2NS 9A2NV 9A2OV 9A2QB 9A2RK 9A2RV 9A2SC 9A2TX 9A2UO
9A3AQ 9A3BCV 9A3DBC 9A3DHJ 9A3DHP 9A3DMN 9A3DPL 9A3FY 9A3GK
9A3GQ 9A3HL 9A3IV 9A3ML 9A3PP 9A3QM 9A3QN 9A3QR 9A3QY 9A3UG
9A3YB 9A3ZC 9A3ZK
9A4A 9A4EP 9A4TB 9A4ZZ
9A5ABH 9A5ADK 9A5AHI 9A5AZO 9A5BDA 9A5BDD 9A5BJT 9A5BPM 9A5C
9A5ETM 9A5FF 9A5JR 9A5KB 9A5KR 9A5N 9A5YY
9A6ADZ 9A6AIB 9A6AJL 9A6AQK 9A6AS 9A6BMJ 9A6GLQ 9A6GPW 9A6GWB
9A6KSU 9A6LEM 9A6RAM 9A6RPR 9A6RQF 9A6RYG 9A6SDN 9A6SJZ 9A6ST
9A6T
9A7ASO 9A7AXQ 9A7AZE 9A7IV 9A7KNG 9A7LUX 9A7PLS 9A7PNV 9A7PVM
9A7PVN 9A7SUD
9A9B
5. One call sign counts only once in GCR list (ex. 9A90Z + 9A1ADE + 9A1R = 7 points)
6. Application for the award can be sent only via e-mail to award manager (email: borislanca@gmail.com) in a GCR-list format (link) and must contain all the information that are normally listed in the log and data to be printed on award (name and call sign) . The QSL cards are not required but the award manager reserves the right to verify the logged data.
7. After the data checking the award will be sent a.s.a.p. via e-mail, in PDF format, to the award applier. Award is in PDF format and FREE OF CHARGE.
8. Deadline for sending the award request is 15.01.2015.
9. If any claim on the scoring, the final decision is award manager decision
10. Award staff: 9A0W President of Radio Club Zagreb
9A2GA Award manager (email: borislanca@gmail.com)
For any further information about award please contact award manager via email.
Application form ... press here
Zagreb, 28.03.2014.