"ZAGREB DIGITAL " AWARD


In order to promote the amateur radio activity and new technologies, "Zagreb" – 9A1ADE Radio Club, one of the oldest clubs in Europe, presents the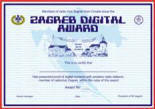 1. All licenced and SWL radio amateurs who make a certain number of contacts with amateurs in the City of Zagreb through digital operation can qualify for the award. The contacts that qualify are the UKV, KV (including WARC bands), 6 m and 4 m.
All digital methods applied in amateur radio activity are allowed, such as rtty, FT8, psk31, psk63, throb, hell, mfsk, mt63, wsjt, stream, pactor, olivia, etc., according to the IARU band plan.
2. The number of contacts required for the qualification:
- 9A stations 10 contacts
- stations in Europe 5 contacts
- stations outside Europe 3 contacts
3. All contacts with radio amateurs from the City of Zagreb qualify for the award.
Only contacts made after July 5, 1992 will be accepted.
4. Apllication for the award must be sent in a GCR-list format and must contain all the information that are normally listed in the log. The QSL cards are not required but the manager reserves the right to demand the certificates for the contacts made by the corresponder. Two licenced radio amateurs must sign the GCR list for verification.
Radio Club Zagreb
(for Digital Award)
Trg Žrtava fašizma 14
HR - 10000 ZAGREB
C R O A T I A
5. The award price is 10 USD or 10 EUR.
6. The award manager is Zdravko Todorovski – 9A6T.
Any additional information can be obtained by e-mail from the award manager.
Application form ... press here
LISTING OF WINNERS "ZAGREB DIGITAL AWARD"